It can be daunting to pick out the perfect souvenir that represents and encompasses a destination that you've visited. With so many hand-crafted and locally made goods, how do you make a selection? Let Progress Lakeshore help you by ordering the ultimate souvenir — their 2023 Local Box!
Filled with 18 unique products from 15 different businesses, the Local Box allows you to sample a variety of goodies from across Manitowoc County. Products include fresh coffee grounds, handcrafted soaps, wine, freeze-dried cheese curds, sweet treats and so much more from businesses including Beerntsen's Confectionary, Silarian Vineyards, Hamilton Wood Type Museum, and Basil's Sustainable Goods (pictured in header image). The box features tasty bites to enjoy in the moment in addition to items like the insulated wine tumbler with a word cloud of Manitowoc County cities and towns that will continue to remind you of the great times you've had in the area either as a visitor or resident for years to come.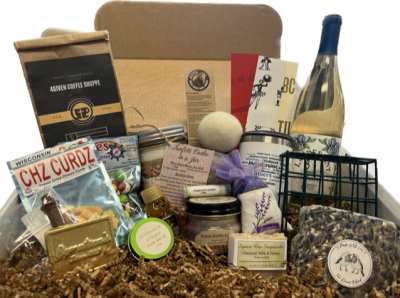 To see the full list of businesses and products that are included in this year's box, click here. Local Boxes are $80 and benefit Progress Lakeshore's economic development and entrepreneurial programming. Sales close October 23, 2023, or when boxes sell out.  
To see more great souvenir and shopping options in the Manitowoc area, check out our shopping page.