History
Manitowoc, Home of the Great Spirit, can date the origins of its name back to 1822. Then, the Native Americans referred to the area as Manidoowaak, meaning dwelling of the spirit, because of its natural beauty. From the shores of Lake Michigan to the abundant gardens along our trails and riverfront, the beauty of the Manitowoc area can be seen at every turn.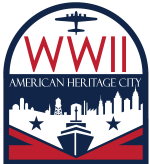 In late 2022, the City of Manitowoc was designated as an American World War II Heritage City due to our contributions during the war effort. Part of those efforts include our submarine building. The Manitowoc Shipbuilding Company was recognized by the Navy as one of the best in the country and was asked to turn out submarines fit for battle even though they had never made one before. In total, Manitowoc made 28 submarines to support the war effort. Other companies that were involved in wartime production include Aluminum Goods Manufacturing, Burger Boat, Lakeside Packaging, Heresite Protective Coatings, and more. Citizens also supported the effort through war bonds. You can dive into this history by visiting the Wisconsin Maritime Museum. You can even step aboard (and stay overnight!) on our submarine, the USS Cobia, from WWII which was made with the same plans as Manitowoc built. 
Manitowoc's maritime history includes more than just submarines! A historic port city since the 1800s, Manitowoc has both built and welcomed steamships and schooners along our shores for generations. Under the waves of Lake Michigan, some of these vessels still lie, and in 2021, the Wisconsin Shipwreck Coast National Marine Sanctuary was designated to protect and celebrate this maritime heritage. With 36 known, protected historic shipwreck sites up and down the shores of Lake Michigan, and another potential 60 yet to be discovered, Manitowoc is the perfect place to visit to learn firsthand about the vessels that played a central role in our nation's history. 
Since 1993, The City of Manitowoc has maintained a Sister City relationship with Kamogawa, Japan, a coastal city of similar size. This relationship is facilitated by Manitowoc International Relations Association (MIRA). Education, events, adult delegation trips and Student Exchange Programs are arranged by MIRA. 
To learn more about the history of the Manitowoc area, visit the Manitowoc County Historical Society, a living history museum. The museum consists of 60 acres featuring a welcome center with local history exhibits and research services and the outdoor Pinecrest Historical Village, a collection of over 25 historic buildings and furnishings from Manitowoc County's earliest settlers. Step back into time as you physically step into these buildings and see what houses, stores, blacksmiths, and more were like over 100 years ago. 
Manitowoc is conveniently located off of Interstate-43. Download a map below to help you find your…
An all season destination, in Manitowoc you can experience fluffy snow in the winter, bright flowers…
Visit Manitowoc's weekly radio show, Dive In with Visit Manitowoc, makes a splash on WOMT…