We love our furry friends, but owning a dog can be difficult when you want to go on vacation. Between coordinating pet sitters and boarding fees, sometimes the stress doesn't seem worth it. One simple solution—bring them with you! Manitowoc has several dog parks and dog-friendly establishments that can easily accommodate you and your pup's next big adventure.
A must-visit dog park is Halvorsen Park, located at 3110 Mero St in Manitowoc. This park features two large enclosed areas with dog toys and training structures –one area for over 40 lbs. and one area for under 40 lbs. There's also a dog bubbler, waste bags, a playground, two softball diamonds, and public restrooms. After you wear your dog out, walk across the street to Sabbatical Brewing to enjoy a cold, craft brew and the large dog-friendly patio.
Another great dog park to visit is the Paws and Play Dog Park near the Manitowoc Marina on the walk out to the Manitowoc Breakwater Lighthouse. This dog park is enclosed and great for a game of fetch with scenic views of the lighthouse and Lake Michigan. Don't forget to snap a picture and share it with us using #visitmanitowoc! (Photo credit: That Wisconsin Couple)
Dogs are also welcome to our beaches! Dogs can be off-leash on the beach at Silver Creek Park and Lakefront Park, and on a leash at Red Arrow Park and Lighthouse Park. Lighthouse Park even has a freshwater cleaning station open during the warmer months in case Fido (or you) get a little messy after your dip in Lake Michigan.
To work out both yourself and your dog, go to Lower Henry Schuette Park for a day of hiking and gorgeous views of the Manitowoc River and wildflowers. All the twists and turns mean that you can take a different trail each time you visit.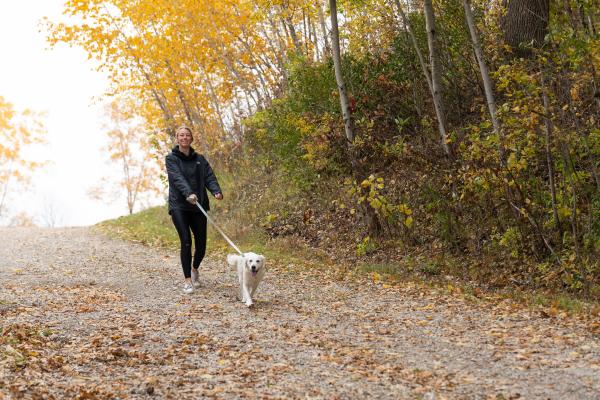 After you worked up an appetite, grab a bite or brew with your companion at a dog-friendly patio. The Fat Seagull, Pizza Garden, PetSkull Brewing, Craft Creek Brewing, and Courthouse Pub (pictured) are great options for both you and your pup. If you go to Craft Creek Brewing, ask for Winston's Brew, a non-alcoholic beer for your dog made with all fresh ingredients.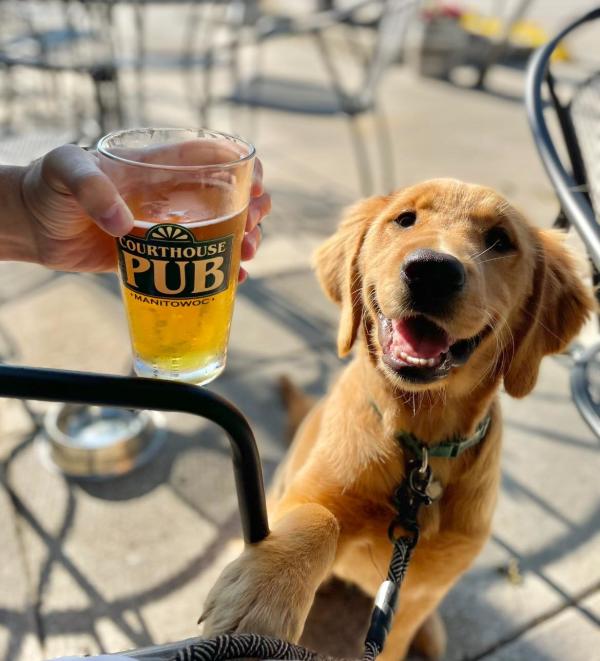 Once it's time to call it a night, there's no need to camp or go home in order to accommodate your dog. Pets are welcome at several of our lodging establishments! Choose from one of our six pet-friendly hotels by going to our Places to Stay page and filtering by "Pet Friendly."