As the temperatures drop, Manitowoc becomes a perfect destination for winter sport enthusiasts. From cross-country skiing and ice skating to snow tubing and sledding, there are endless ways to enjoy the great outdoors this season. Whether you're a seasoned local or a visitor eager to experience the beauty of a Midwest winter, we've got something for you. 
Camp Vits -  Cross Country Skiing & Snow Shoeing 
Camp Vits Park is a premier destination for cross-country skiing and snowshoeing. This 76-acre park is tucked away from the hustle and bustle, providing outdoor adventurists with well-maintained trails that cater to all skill levels Snowshoes are available to rent from Manitowoc Parks and Recreation at the front desk of the Manitowoc Senior Center. 

Silver Creek Park - Cross Country Skiing, Sledding, Snow Tubing & Fat Tire Biking 
Nestled along Lake Michigan, Silver Creek Park is a hub for outdoor recreation. During the winter months, over 70 acres of parkland transforms into a popular destination for cross-country skiing, sledding, snow tubing and even fat tire biking. The park trails offer multiple paths for seasoned skiers, beginners and everyone in between. For those in search of downhill excitement, the park's hills offer the perfect slopes for sledding and tubing. For those who prefer two wheels to skis and sleds, Silver Creek Park provides 2.5 miles of trails for fat tire bikes. 

Burger Boat Company Park - Ice Skating 
When the temperatures are below freezing, locals and visitors can flock to Burger Boat Company Park to ice skate. This riverside rink is available to the public free of charge; however, there are no skates available to rent, so be sure to bring your own.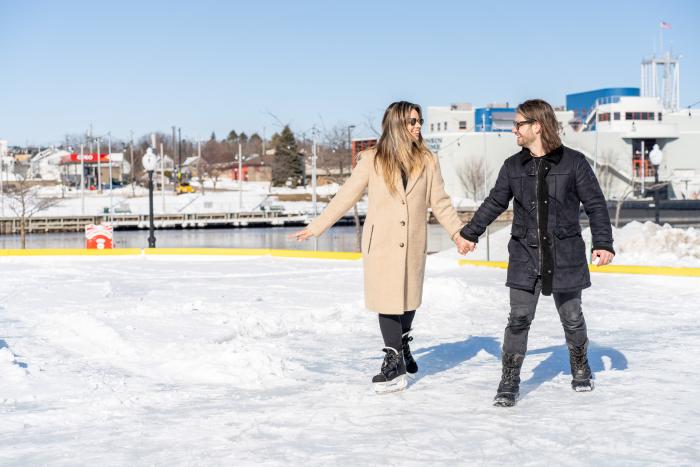 Manitowoc County Ice Center - Ice Skating & Hockey 
The Manitowoc County Ice Center hosts a variety of winter activities for all ages, including ice skating, skating lessons and hockey games and tournaments. Whether you're a seasoned skater looking to perfect your moves or you're just starting and want to glide around for the first time, the Ice Center warmly welcomes all. Public skating is typically offered on Saturday and Sunday afternoons from late fall through February, and skates are available to rent.