One of Manitowoc's largest and most wooded parks is Camp Vits, a 76-acre public park managed by Manitowoc Parks and Recreation. Nature enthusiasts will not want to miss this one! Below is a photo of the trail map at the entrance to the park. Although there are helpful trail markers and maps at trail intersections, you may want to keep this one handy so you don't get lost in the large park: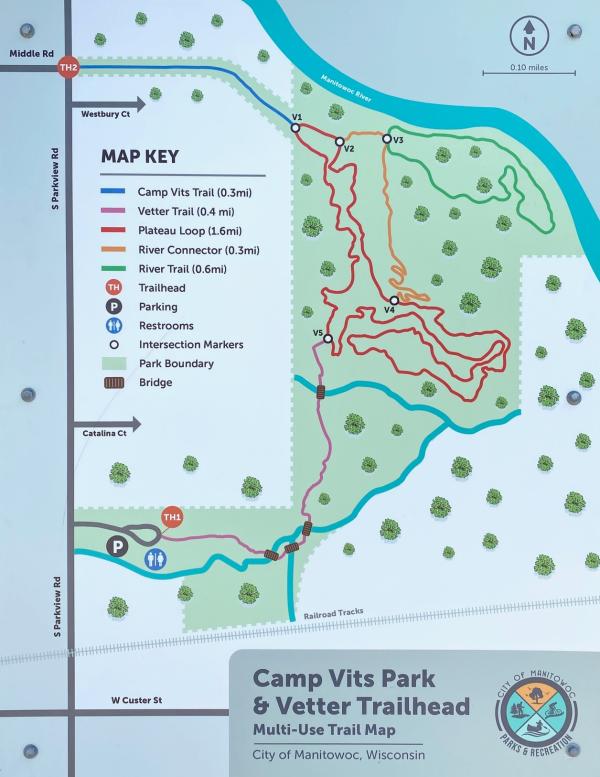 Camp Vits' trails are perfect for hikes and mountain biking at any time of the year. The thickly wooded area provides an ample amount of shade for hot, summer days, and the snow cover of winter allows for cross-country skiing and snowshoeing in the winter. Snowshoes can be rented from Manitowoc Parks and Recreation at the front desk in the Manitowoc Senior Center.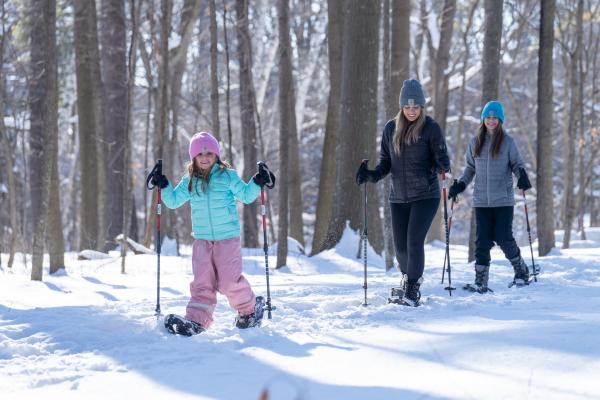 The park is full of bluffs, ravines, and trees, which make some segments of the dirt-packed trails root-covered. These roots can pose difficulty for beginner hikers, so we advise caution and would suggest easier trails such as Mariners Trail or Silver Creek Park for people looking for something lighter. If you are interested in bringing your furry friend, note that all of these trails including Camp Vits allow dogs on leashes. 
For mountain bikers, note that there are "no biking" signs on the several bridges at the beginning of the trail at Vetter Trailhead; however, bikes are allowed once you pass those bridges.
There are two entrances to this park, and since these trailheads are relatively new, Google and Apple maps have not yet totally caught up and do not reflect where the parking lot is. The original entrance is at the intersection of Middle Road and Park View Road, as seen on the map above. A newer trailhead was added on Park View Road just north of the train tracks. This entrance has off-road parking and bathrooms. Look for a blue sign that says "Parking" from Park View Road to turn into the parking lot. Upon entry, you'll see the Vetter Trailhead sign and you'll know you're in the right place. Happy trails!