Beautiful shades of yellow, orange, and red are starting to kiss the tops of our trees in Manitowoc. Add in the crisp fall air and dry ground, then you've got yourself some perfect hiking conditions. From now through October, catch the beautiful changing colors at one of our many parks. 
Although anytime during the fall is a great time for a walk or hike in Manitowoc, the best time to visit is during peak fall colors. In general, the Manitowoc area peaks around the third week of October. To see when Manitowoc and other areas of Wisconsin are currently peaking, look at the Travel Wisconsin Fall Color Report. This report is updated in real time by area representatives so check daily for new updates. 
If you're a serious hiker, you may want to consider giving the Mammoth Hike Challenge a try! The Mammoth Hike Challenge is hosted by the Ice Age Trail Alliance and encourages hikers to get out and hike, walk, run, or backpack at least 43 miles of the Ice Age Trail and visit at least three Ice Age Trail Communities during the month of October. The Manitowoc-Two Rivers area is an official Ice Age Trail Community, so if you visit us, you are already a third of the way done! Those who complete the challenge also earn a limited edition patch. 
While the Manitowoc area is full of beautiful changing leaves, some parks really take the cake when it comes to fall hikes. Top choices for hiking in the fall include Lower Henry Schuette Park, Silver Creek Park, and the Mariners Trail. Washington Park is another great park for leaf peeping gorgeous orange leaves and settling in for a fall picnic, but it does not have walking trails. 
Lower Henry Schuette Park
This 65-acre park is situated on the Manitowoc River and is made up of several open-air and wooded trails. The Ice Age Trail also passes through this park. The biodiversity in this area makes it a visual masterpiece in the fall, with something new to see during each visit. Lower Henry Schuette Park offers a kayak launch, marked trails, biking trails, and a large community-built playground and bathrooms in the upper area. As with most of Manitowoc's parks, dogs are allowed on leash.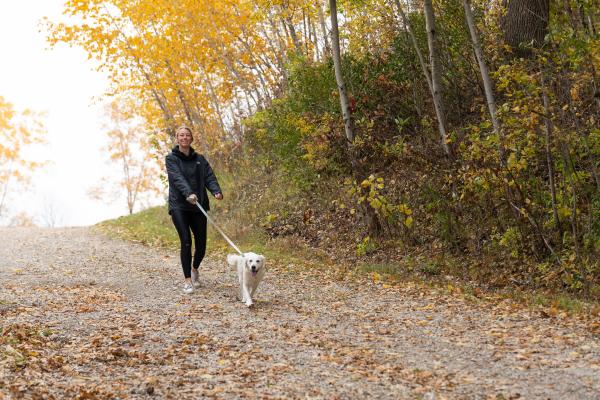 Silver Creek Park
For a park with a variety of terrains and views of Lake Michigan, go to Silver Creek Park. This park is known most for its 36-hole disc golf course that was voted 30th Best Free Disc Golf Course in the world, by UDisc. There's also a babbling stream, playground, bathrooms, heavily wooded areas, and a beach.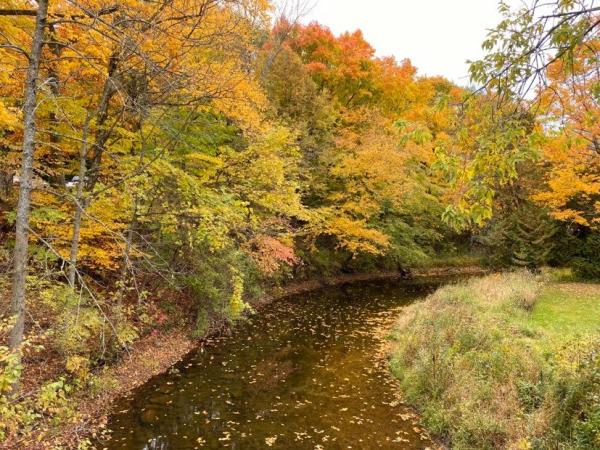 Mariners Trail
Perhaps the most scenic and well-kept trail in Manitowoc, the Mariners Trail is a top pick for October as it's all part of the Ice Age Trail and counts towards the Mammoth Hike Challenge. There aren't as many trees changing color in this area, but the sight of the large autumn waves as you travel up the shore of Lake Michigan is something to behold. This flat, paved trail is perfect for biking, hiking, or setting a new personal record on a run.